The Duck Donuts Story
All About Our Donut Shop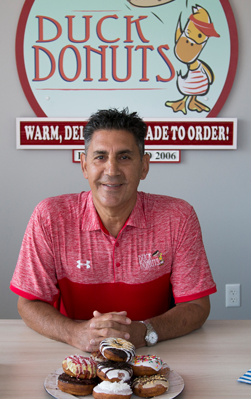 The story of Duck Donuts began with a family vacation. Russ DiGilio and his family regularly vacationed in Duck, North Carolina, located in the Outer Banks. Though they loved their annual getaways, there was one thing they couldn't understand: Why was it so hard to find fresh, delicious donuts? Though we would argue that donuts pair well with everything, they certainly are a great fit for vacations. Yet this quiet, family-oriented town didn't have any donut options – so they set out to change that.
What began as a whim evolved into creating fun recipes and months of research – and eventually the first Duck Donuts opening in 2017 in Duck, NC. Our delicious donuts were made-to-order and paired perfectly with hot coffee – and this simple recipe for success is what drove our company to quick expansion. First, we expanded to other states in the U.S. before expanding into Canada.
After nearly 15 years of success, we have never lost focus on who we are. Our donut shops offer a warm, family-friendly feel and our donuts are always made fresh and never stored in display cases. Our teams work hard to continually provide outstanding customer service and we are continually proud of their dedication to our success.
Stop by one of our donut shops to see what we are all about. With our fun customization process, we offer endless possibilities. From our family to yours, we look forward to seeing you soon!